Our Clinic
East Maitland Family Medical Practice is a family general practice, serving the community for over 30 years. Our staff are fully accredited and our friendly, local staff provide comprehensive medical care.
We are sure to be able to accommodate all your health care needs.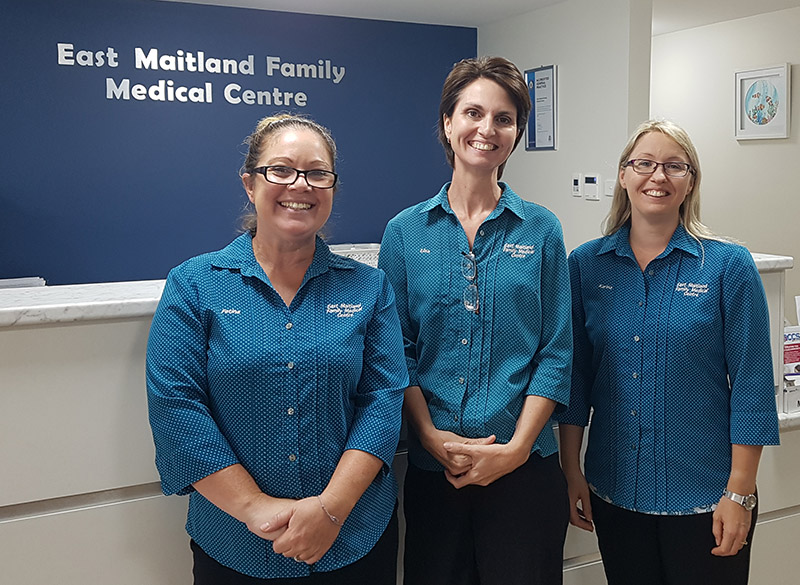 Family Medicine
Preventative Care
Antenatal shared care
Childhood Immunisations
Paediatric Care
Mental Health
Travel Vaccinations

Women's Health
Postnatal Care
Mirena insertion & removal
Implanon insertion & removal
Well Women's Nurse

Health Assessments
Care Plans
Aged Health Assessments
Skin Cancer Check
Mental Health Assessments
Workers Compensation
Pre Employment Medicals

Chronic Disease Management & Treatment
Spirometry
Pre-diabetes
Diabetes
Iron Infusions
INR Testing
Our Medical Centre caters for an extensive range of medical conditions, from general check ups to disease management and specialist services.
As well as the services mentioned above, we also offer extended services such as:
Mens Health
Indigenous Health
Excisions & Minor Procedures
Iron Infusions
INR Testing
Electrocardiography
Hypnotherapy
Acupuncture & Dry Needling
Workers Compensation Medicals
Pre Employment Medicals
For any of your medical needs, be sure to visit East Maitland Medical Centre.
Our professional doctors and staff will accommodate your health and medical needs.